ISRC codes is a must-know topic for a music producer or an artist. Every song or music video you release should have one. The code will be used for identifying your song, tracking streaming and sales, for the billboard charts, and collecting royalties.
Do I need one? How do I get one? We'll discuss all the different questions about ISRC codes in this article.
ISRC code explained

Let's take a song named Hello, for example. Wait, do I mean Adele's song, Hello by Evanescence, by Eminem, by Lionel Richie, or a different one? There can definitely be a number of songs with identical names.
The easiest way to refer to each particular song would be to assign a unique code to each one.
ISRC codes solve this problem because they serve as an identification for every record. Unique codes are assigned to master records or music videos. No two songs or music video recordings in the world carry the same code. ISRC is like a digital fingerprint, these codes permanently identify the released music or videos.
It's called the international standard recording code
ISRC stands for international standard recording code; this code was developed as an ISO standard back in the 1980s.
The system is international, which means that the code you receive for your song will be recognized across the globe.
It's associated with a master record, not with a song
It's worth noting that the ISRC code is connected to a master record, not to music and lyrics. It's the identification for a recording.
There can be different remixes of one song with different ISRC codes, even remastered tracks may in some cases get a new identification. And, of course, different renditions and cover versions by other artists will each get individual ISRC.
It can be issued for
a song recording,
a music video (separately from the audio recording, by the way)
Also, sometimes ISRC can be used for voice recordings other than songs, and for video programs.
The structure of ISRC codes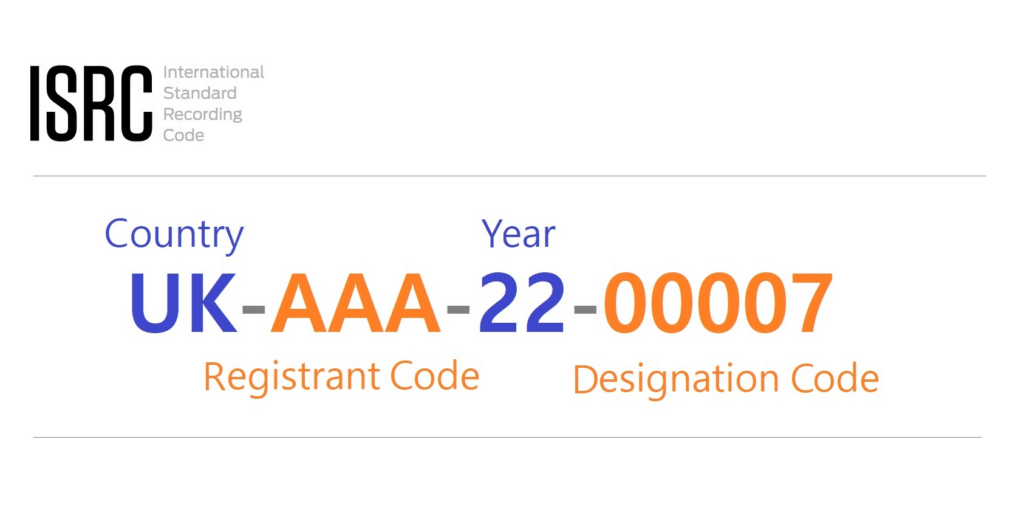 This alphanumeric code consists of 4 parts:
Two characters represent the country code, for example, US, or UK, or other.
Three characters of the Registrant Code, are unique to the registrant (the party that issued this ISRC).
After that go the two last digits of the year when the code was created, for example, 19 or 22.
The last five digits is the number called Designation Code, the number assigned to the song or the music video by the registrant. Within the stated year for the given registrant, each song must be given a unique designation code.
In total, ISRC consists of twelve characters but for convenience sometimes you may see it written with dashes between the parts.
It is appointed only once for each master record or music video
Once you have obtained an ISRC code for your recording or video, you must use it for this recording across all the platforms and for all the distribution methods.
There can not be two or more ISRC codes for one recording.
However, if you change the song somehow, for example, make a remix, then getting another ISRC code for the new master record is perfectly fine.
Who can issue ISRC codes?
Registrants that can create ISRC codes can be companies or individual artists, the only condition is that they need to be official ISRC Managers.
A person or a company can apply and, for a small fee, register as an ISRC Manager. Then this party receives a unique individual Registrant Code. That's it, now they can issue ISRCs.
However, they now bear the responsibility of keeping track of all the codes they have issued.
What is ISRC code used for?
The ISRC code is used for identification of sound recordings and music video recordings. It is used for a number of operations in the music industry:
Billboard charts use it to track the song's popularity
Digital distributors and streaming services catalog and track songs using ISRC codes
Having an ISRC code simplifies the identification for copyright
The code is used for tracking when the song is streamed
ISRC codes help track the streaming, downloading, and sales of recordings to calculate royalties
We have named just a few ways how ISRC codes are used, there are more.
ISRC is necessary for streaming and selling
Your song will need the code to be streamed on Spotify and other digital streaming services. The code is also needed to sell your song online on different platforms.
Do I need ISRC codes for my CD?
Yes, you do need to obtain this code for creating a CD, along with with a UPC (code for product distribution). This will help track the sales of your album.
In the process of issuing a CD recording, the ISRC code must be added with mastering for CD, or to the DDP image. Anyways, it should be added before you send your CD to replication.
How do I get an ISRC code?

You can become an ISRC Manager yourself and create the ISRC codes for your recordings and music video products. However, many artists choose an easier way, because the code can be obtained for free from their digital distributor or record label.
There are a lot of companies that offer ISRC, usually for free if you buy their services like mastering, music distribution, or others.
All major digital music distribution services like Tunecore, CD Baby, Distrokid, and others will issue an ISRC code for your recording if you distribute it through them. They will also embed the code into your audio file.
Streaming platforms can issue the code, SoundCloud, for example, will provide the code for you if you are planning to turn on monetization for your track.
Can I make my own ISRC code?
Yes, but only if you become an ISRC Manager, and only the last 5 digits will be up to you.
First you'll have to apply and receive your own Registrant Code, you'll have to pay a membership fee in this case.
In the US, previously you would send your application to RIAA (Recording Industry Association of America), but it no longer accepts applications, now you can send your application via the https://usisrc.org/ website.
In the UK, you'll send the application to https://ppluk.com/.
You can find your regional agency if you live in another country using the IFPI website https://isrc.ifpi.org/en/contact/national-agency-contacts. IFPI (International Federation of the Phonographic Industry) historically is the main office that appointed the regional ISRC registration authorities.
How ISRC codes are embedded into a recording
In the early days, mastering engineers manually placed the metadata inside the audio file. Now, different ISRC embedding software are used to put the code directly in the metadata part of your audio file or music video.
As we already mentioned, your digital distribution service will do it for you most of the time.
However, you may do it yourself prior to distribution, using special software. You may use this software yourself, if you want, and embed ISRC code to your WAV file or other formats yourself. An example of the application is mp3tag software which allows to add metadata to almost every audio format.
There is also an option to order the embedding of ISRC, cover image, and all the other metadata on the mastering step or when it's finished.
Get help with sound recordings and music mixing and mastering
ISRC codes are required and will help you with identifying your record for billboard charts and for receiving royalties.
However, if your song hasn't received professional mixing and mastering, it will have very little chance to become popular, reach the top of the charts, and generate any royalties.
Thousands of songs are uploaded daily to Spotify and other platforms, only the best sound survives in this ocean of competition.
If you have any doubts about your quality of sound or mixing, don't hesitate to ask us at Major Mixing studio.
We've been in the industry for more than a decade and learned by experience what it takes to mix and master a future hit correctly, that's why you can bring us your song and know that it will receive the highest-quality mixing and mastering.
You can also apply for online consulting and ask your questions. Reach us online anytime, we'll be happy to help.