Before now, all music had released by recording labels. They did the printing of your vinyl, CD, etc. Then they started to distribute your music through streaming platforms.
Labels also do everything about your copyrights, registering ISRC and EAN-UPC codes for your music. These codes are used to identify each master and are used by distributors to make sure that your song is your song.
But the main issue is that not everyone can work with labels, and it has a lot of limitations, fees and requirements.
Now we have a lot of platforms to sell music: iTunes, Spotify, Google Music, YouTube, Tidal etc. But they still do not provide the possibility to direct upload music to independent artists.
Don't worry, there is good news for you.
By now, we have a lot of aggregators that upload music on every platform for you.
It's completely replacing the record label function right now.
Before starting to work with these platforms, you should have completely finished song.
Recording, Mixing and Mastering processes should be done.
Now all you need to do is, to create an account, upload your track there and this is it – your music everywhere now.
Hereby list of these platforms:
CdBaby
TuneCore
DistroKid
Ditto Music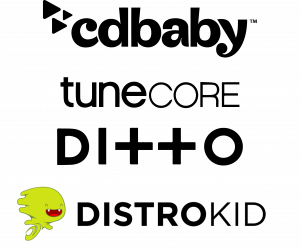 The most obvious difference between these platforms is only their pricing model.
CDBaby charges artists on time for release, plus collects 9% of your royalties. Tunecore has an annual fee to distribute your music. Ditto and DistroKid have subscription models also.
They will create all codes, monetize your music, give all your statistics and some PR services.
You can choose any service. You need to check all cons and pros of each.
I would say that CDBaby works best for artists that have less than 100 000 streams.
Where Tunecore, DistroKid and Ditto is better is for artists who have over 150,000 streams per year.
Remember that Major Mixing can help you to prepare your track for release.
You can order mixing and mastering service and Mastered For iTunes and Spotify.