In this article, we'll share with you our thoughts on the best and most popular books for music producers. There are a lot of books on mixing music available now, but only a few have reached the top of popularity among musicians and mixing engineers.
If you are an audio engineer, music producer, or artist and have been thinking about choosing a book on mixing to upgrade your skills or to use as systematic reference material to look into when necessary, read this article. It'll shed some light on the world of books on mixing and help you make a better choice.
Why do I need a book on mixing music?
The work of a professional mixing engineer requires many skills that you can only get from years of practice in music production. It's the actual work that really educates you in this field. Listening to hits that have won the charts, comparing how different mixes sound to human ears, and doing a lot of work on different kinds of music yourself, this experience will help you grow as an engineer and music producer.
However, if you are aiming to become a professional audio engineer without meticulously studying the theory, you'll always feel that the gaps in your knowledge are mercilessly drawing you back.
Successful mix engineers need books to help them learn all the details about various mixing tools and effects, as well as the physics of sound waves. When you are well equipped with this knowledge, it makes practice much easier.
No matter how many years you have been mixing, experienced engineers still read books and study theory because working with sound includes huge amounts of information and theoretical knowledge. No matter how much you know, there are always many more new things in the field to learn and improve your skills.
In this article, we'll describe to you the most popular books that many audio engineers around the world find the best and most helpful.
The Mixing Engineer's Handbook and other books by Bobby Owsinski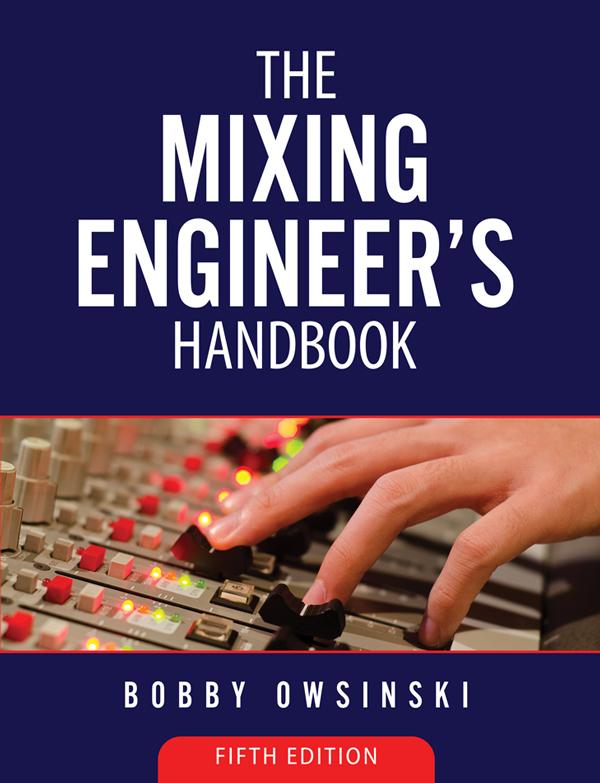 This book is the first on our list, and it's not by accident. It's very popular among musicians who want to learn mixing as well as among professional mix engineers.  It is used in universities as a course book to teach audio engineers, so you can imagine how thorough and deep it is, and at the same time, it's completely suitable for a novice.
Bobby Owsinski is a well-known American music producer, arranger, mixing engineer, educator, and writer. He has produced and mixed songs for celebrities and has taught at Berklee College of Music. He is also famous for co-founding Surround Associates and being one of the first to mix surround sound for DVDs.
This music producer has written more than 20 books related to music and business, including books on music recording, music production, mixing, and mastering. The Mixing Engineer's Handbook is one of his works that shows us the mixing process in detail.
The book is divided into two parts. The first part is dedicated to the theory and all the tools a mixing engineer uses.
The second part, which in fact takes up half of the book, contains interviews with famous audio engineers where they share their experiences, approaches, and priceless mixing tips.
Learn the mixing process, theory, terminology, and much more
This is what the structure of The Mixing Engineer's Handbook 5th edition looks like:
The book starts with the background including the evolution of music mixing and the overview of mixing styles.
Then it explains some technical aspects, terminology, and metering.
After that, the author proceeds to overall mix balance.
Then goes a detailed explanation of stereo imaging and panning, with a separate chapter for immersive sound.
And then goes the chapters about compression, limiting, EQ, adding effects, and other audio mixing processing.
A special chapter is dedicated to finding and creating the groove for the song.
And at the end of the first part, the author talks about a finished mix and mastering.
The second part, as we said earlier, is dedicated to interviews with famous audio engineers.
In the end, there is a glossary that will help you quickly check out terms you may come across.
This is a classic book, so if you are in music production and must choose one book for mixing, this is it. It is not too hard for a complete novice, it will give you practical advice on step-by-step mixing, giving you a solid foundation in mixing and explaining the very basic concepts.
And at the same time, it's an in-depth guide that will help you in your music production to create impressive mixes and achieve professional results.
The Music Mixing Workbook and The Mastering Engineer's Handbook
As an addition to The Mixing Engineer's Handbook 5th edition, especially for training mixing skills in music production, the author has prepared The Music Mixing Workbook with useful practical exercises.
There is also The Recording Engineer's Handbook 4th edition and The Mastering Engineer's Handbook 4th edition by the same author, so if you also do recording, mixing, and mastering in your music production, you may want to check those books out as well.
The author's website, bobbyowsinski.com, also contains a lot of useful information on the creative process of mixing and mastering and how to achieve the best sound in your studio.
Mix Smart. Pro Audio Tips for your multi track by Alexander U. Case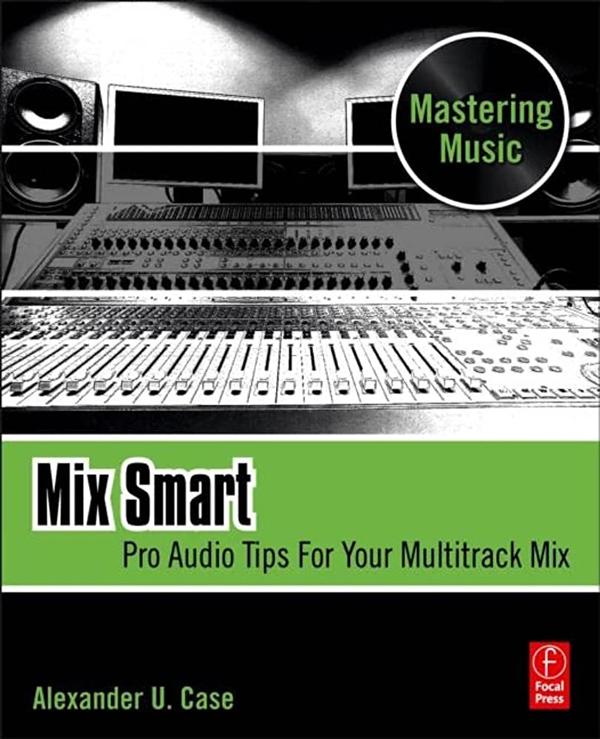 Mix Smart by Alexander U. Case is a comprehensive book that covers all mixing tools in detail. A perfect reference book that even a professional will benefit from.
The author, Alex Case, is a professor at the University of Massachusetts Lowell and has several degrees, including those in music and acoustics. He has been teaching full-time for many years, both to undergraduates and graduates.
In Mix Smart, he starts with audio staging and the overall coherence of a song. Then the author goes through each type of audio processing, explaining its parameters and settings.
Long, thorough chapters are dedicated to all types of audio processing:
EQ,
Distortion,
Compression and limiting,
Expansion and gating,
Delay,
Reverb,
and others
The book might be a little hard to understand for a complete beginner in the music industry because of Alex Case's deep dive into each topic and his in-depth technical knowledge. Some explanations are very scientific, so the book is not a light read.
However, if you truly want to grow in mixing music and create great mixes, then understanding important concepts, including the physics of acoustics and sound waves, will definitely be worth the effort.
Many engineers agree that this book can be the only one you need as a reference book on mixing music.
Mixing Secrets For The Small Studio by Mike Senior

Professional mixing engineer and writer Mike Senior describes in his book many useful tips for building a home studio and mixing music.
The book is divided into four parts:
Part 1. Hearing and Listening talks about how to choose speakers and how to use them.
Part 2. Mix Preparation is about how to prepare your multitrack.
Part 3. Balance talks about the main mixing work. This section describes all about compression, EQ, and other audio processing tools.
Part 4. Sweetening to Taste talks about reverb, delay, and other effects.
This way, the book explains to the reader all the steps of mixing. And even though engineers who have already been working with music for some time might find the book too simple, many musicians love Mixing Secrets for the Small Studio and have learned from this book a lot of basic and more advanced rules for working with song multitracks in a home studio.
An impressive addition to the book is presented on the author's website, cambridge-mt.com. Here Mike shares additional resources for his book, including a huge free library from which you can download song multitracks of numerous styles and genres to practice your mixing skills. This can be extremely helpful if you are learning and need more practical experience.
Mixing and Mastering in the Box by Steve Savage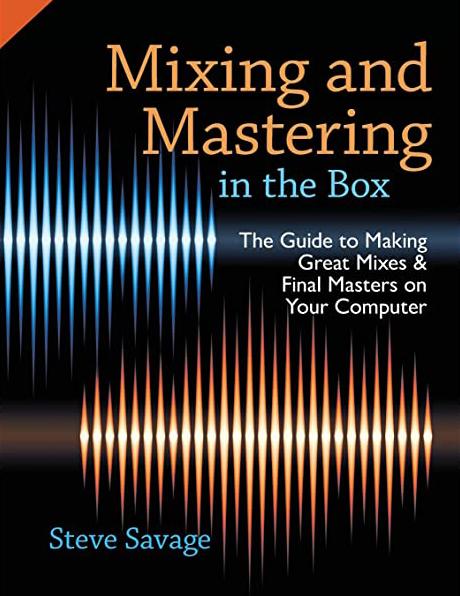 The full title of the book written by producer and audio engineer Steve Savage is Mixing and Mastering in the Box: The Guide to Making Great Mixes and Final Masters on Your Computer.
This is a book that covers various topics connected to not only mixing but also mastering. You'll learn how to set up a studio, how to approach mixing a song, and how to develop the necessary mixing skills. It also describes how to master yourself and provides a lot of explanations on general topics of working with sound as well as specific techniques.
The author writes in an easy and conversational manner, so if you hate dry technical stuff and love a more friendly approach to learning, this book is for you.
The big advantage is that, besides mixing, it covers a lot of information on music production in general, so it's definitely a very useful book to read.
Step By Step Mixing: How to Create Great Mixes Using Only 5 Plug-ins. Bjorgvin Benediktsson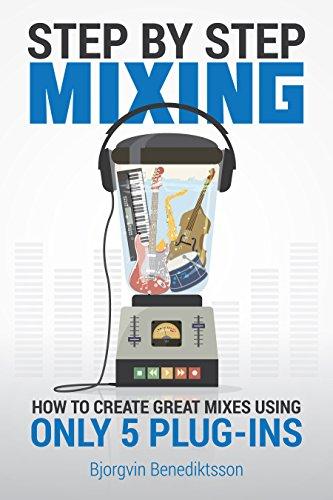 This book is written by a sound engineer and educator from Iceland. The book has a very specific purpose. If you don't have a clear structure in your mixing work, if you are not sure which plugin you'll be adding next and why, and if your work is more of a quest than a well-determined process, this book is here to sort things out for you.
It provides a step-by-step guide for you to follow in your work. The book makes it clear how to use the major audio processing types and when and why to use them.
The five plugins that are at the center of Bjorgvin's book:
Equalization
Compression
Reverb
Delay
Saturation
Despite what the title suggests, the book explains much more for a mixing engineer than just the use of the five plugins.
So, if you are looking for a simple guide that will put your thoughts in order, here it is.
Your mix sucks. Mark Mozart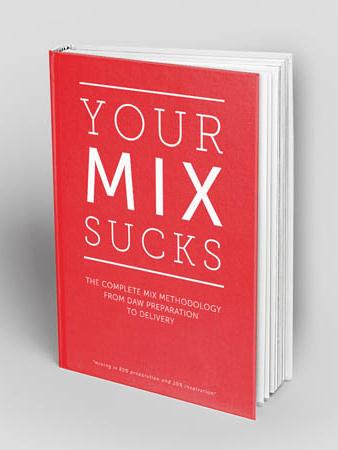 Mark Mozart provides in his book a complete guide to mixing, from preparing a multitrack to a perfect finished mix. Being a successful songwriter and producer, the author has worked with many celebrities in the music industry and with major labels, so he definitely knows what he is talking about in his guide.
The latest edition of his book is done in collaboration with Waves Audio and includes examples of the usage of Waves plugins, but the book will still work well for you if you use any DAW and other sets of plugins.
You can read a couple of free chapters and learn more about the book and its contents directly from the Waves website, waves.com/your-mix-sucks-marc-mozart-waves-edition, and form an opinion about the book yourself.
In addition, in Chapter 10, Mark provides guidelines on communicating with clients, including e-mail examples and dos and don'ts. Part of this information is also available for free on the Waves website (you can find it using the link above).
Altogether, the book is very informative and thorough; although it's not for beginners, it's rather aimed at engineers who already have at least a little experience working in a DAW with different plugins.
There are many more …
Sure, there are a lot more books that mix engineers can benefit from than we have named in this short article so far.
We haven't mentioned
Mixing with Your Mind: Closely Guarded Secrets of Sound Balance Engineering by Michael Paul Stavrou,
ZEN And The Art of Mixing by Mixerman,
The Art of Mixing: A Visual Guide to Recording, Engineering, and Production 2nd Edition by David Gibson, and many others.
You'll probably have to read several books to finally discover the one that will become your personal favorite helper in working with music.
However, the best teachers for you will still be your love for music, your perseverance and desire to achieve your goals, your inspiration, trial and error, and lots of mixing work.
Trust professionals with your song
Learning to be a professional mixing engineer is a long process. You will study using books and courses and learn from professional audio engineers and music producers. All this will take a lot of time and effort. At the same time, you can't expect your first mixes to be perfect.
However, it may be that your song is genius and deserves to be heard and appreciated. In this case, you definitely have to make a high-quality recording and trust mixing and mastering to professionals. Because in the music industry today, only the best quality sound has a chance to be heard and become popular. No matter how amazing the song idea is, if it is poorly recorded and mixed, it will never be appreciated by listeners.
Trust Major Mixing studio with your music!
We'll consult you on the recording process if necessary, mix your song according to all industry standards, and prepare it for release as a future hit. If you have a recording that needs to be mixed and mastered, contact us.